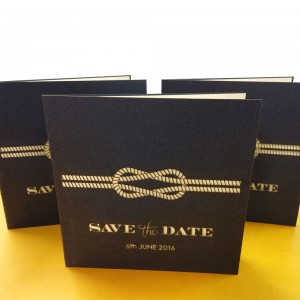 This little post is to let you know that we've updated our wedding stationary print pages so you can see a little more detail about the kinds of things we can produce. There's a lot of wedding stationary suppliers but we give you full control over your print and full customisation of what you get. Fundamentally we don't use generic templates so every wedding invitation we create is unique.
We have our basic single page printed invitations that look really nice when coupled with a great design and high quality print. There are a number of paper types for you to choose from including silky smooth classic finishes, textured paper, and gold edged paper. We can then take these materials and give you a superb print in the design of your choice. The design can be anything you like, just let us know and our design team will take care of the rest. We can use as much or as little information as you like when create the design. Feel free to draw a quick sketch, send some photos of previous invitations you've liked, give us a theme, colours, or give us none of it. At Ace Print the choice is always yours.
For those that want something a little more exciting be have a fully bespoke wedding stationary service. This is for the more adventurous of you that have an idea that moves away from the norm. This includes basic folds, layered effects with card and photos, folded cards sealed in the middle with a sticker or wax, cards made to look like tickets, or pretty much anything else you can imagine. There really is no limit with our bespoke wedding print. It's a completely custom job from start to finish. If you've got an idea some some level of extravagance or complexity than please let us know, we're here to help make your dreams a reality.
There's something relatively new in the world of wedding print, laser cut wedding stationary. This is a very exciting service we can provide to make your invitations even more extraordinarily unique. While many people may offer standard laser cut wedding invitations we don't do that, each of our laser cut wedding invitations is unique. We cut a design that suits your needs, we don't force pre-cut examples onto you. We can even cut out your names, dates, times, or places to make it personalised. That's not even the end of it, we could cut a pattern or symbol that is significant to you or even create a cut silhouette of the two of your together.
Ultimately here at Ace Print our job is to ensure you get the type of wedding print you want. So please get in touch using any of our details and let us know how we can help you.