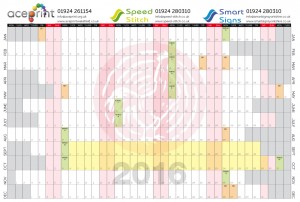 Organising your life or business can be a complicated process, which is why we offer personalised wall planner printing to help make your life a little easier. These wall planners can be printed at any size you but we feel A2 has a nice balance between being big enough to see and not being so big as to become a distraction. This is merely a suggestion and we can provide wall planner printing at A0, A1, A3, A4, or any custom size you may request.
The standard wall planners we print have a full year calendar along with your company logo and any other information across the top. Fortunately this standard is just the starting point and we can alter this design to incorporate any new information or features you would like. This could be very basic things like a website and contact details or some useful information like unit conversion charts and formulae. We could include price tables, list of rules, safety regulations, anything you think that you or your employees should know. We can add spaces for additional notes on calendar days along with dates for events or occasions specific to you or your company.
Aside from the functional changes we can add many visual elements to make sure your wall planner is a welcome addition to your home or office. We can create a design that's sleek and minimalist to fit your corporate design or we could go with something incredibly extravagant and vibrant.
We can add images or photos of your work or employees to help make it feel a part of the business. We can have designs with a mostly white background or we can add colours to help brighten the mood around the office. Just let us know what type of wall calendar you would like and we'll craft a design that both suits your needs and prints incredibly well.
No matter your requirements or needs just let us know and we can provide you with the best possible wall calendar printing we can. Just contact us using any of our details to find out more or to place your order today.