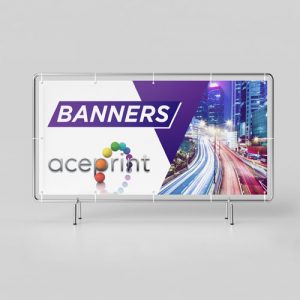 We offer high quality full colour printing on 440gsm PVC banners that are perfect for any sales, events, or occasions where you want to make a splash. The banners are made of a durable material, good for both indoor and outdoor use, and we can print to any size you need. We even have very large formats available should you require it.
If you have a sale or short term event then a banner is a quick and affordable way to advertise that sale or event. We print them in beautifully vivid colours and high quality so you'll always get the best possible print of your artwork. Whether you want a myriad of photos or just some basic text our print will really make your banner shine and help attract people to whatever it is you're advertising. It's not just the printing that's of high quality, we also print on to a sturdy 440gsm pvc banner material that's incredibly strong. We also have a mesh banner material designed specifically for locations that are very windy. This material has many small holes in it to let air pass through, this relieves stress from the banner lowering the likelihood of tearing due to sudden gusts of wind.
We can print from your artwork assuming it meets our requirements but we can also design the banners for you should you need it. These designs are crafted by our in house design team that can take your logos, images, fonts, or text and create a nice and balanced banner. These designs are optimised for banners so you know they'll always look great. If you know exactly what you want on your banner or you have no clue it doesn't matter, our design team can help take you through every step of the process no matter how far along your thoughts on the design might be.
While we do have standard banner sizes to help reduce print costs we can print banners to any size you like. Just let us know the dimensions and no matter how big or small we can create a banner to suit your needs. To find out more about our banner printing or to place an order please use any our our contact details at the bottom of the page.