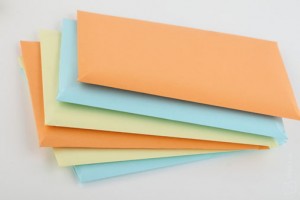 You may already know that here at Ace Print we can provide you with printed envelopes but we can also provide printed stickers to seal them. While you are more than able to use the old fashioned lick and stick method the seals we offer do look much nicer. The printing is top quality and can perfectly fit in with the theme of your envelopes to enhance the overall effect. Even better we can take the design of the sticker into account and incorporate them in the whole design.
The stickers come in a range of shapes and sizes so while we usually suggest a small round sticker to seal it neatly in the centre the choice is yours. We can even print and cut specific custom shapes should you need them.
The envelope seal stickers are particularly beneficial when you need that little bit of extra flair. Perhaps when this is most important is when you're mailing out invitations for a formal affair, like a wedding or a business event. Wedding invitations can look really nice, especially if you take advantage of our bespoke printing, but why only settle for basic envelopes? The little sticker on the back to seal you invitation in is one of those small finishing touches that we believe makes all the difference. It's the thing that will set you apart from the crowd.
Stickers are great for sealing envelopes for parties and such but they are also a really nice option if you find yourself in a position where you're regularly sending out letters. Rather than licking a plain white envelope why not have a subtle, stylish sticker? These can be as simple as a small black circle with a white logo, it's a very modern style. Yet the reason you should get some of our printed envelope seal stickers isn't just aesthetics, it's also practical. If you're sending out a great many letters, perhaps as part of a letter writing campaign or just through your regular work schedule, then having stickers on hand can save a lot of time.
Things like envelope stickers are easily overlooked but they really do make all the difference. You can craft a person's view of yourself and your company before they've even opened your correspondence. That's an incredibly powerful tool that you need to have at your disposal. We can print stickers envelope stickers at top quality but with such low prices you won't be able to say no.
To find out more about our printed stickers, to place an order, or simply request a quote please call today on 01924 261 154.