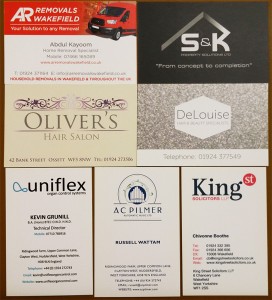 At Ace Print we pride ourselves on having a great design ability. Print is one aspect of the process, the design is the other and it's really important that you have a professional and compelling design. That's why we encourage all of our customers to take advantage of the great design service we offer. You can create your own designs, that's always an option, but why spend the time and energy when you can have a professional do it for you at a relatively low price?
Design is like anything else, to master the art of it takes time and experience, something our designers have. They can utilise all their knowledge and bring it to bare creating something for you that you'll be truly happy with.
It's important to note that our designers don't just do this in a vacuum, these designs are for you and as such your input is vital. You can tell us what style of design you would like, suggest some colours, draw a quick sketch, write some notes, get a set of pictures you like, anything you what to give us to guide your design is welcome. Then, once you have a proof of the design, we'll also make any changes or tweaks you want to ensure you get the design you are happy with.
Our designers cover all the basics like letterheads and business cards but we can also tackle tougher challenges like laying out booklets or calendars. We can even design banners, packaging signage, any design you need we can provide. It doesn't just stop at physical goods either. The designers here at Ace Print have a lot of experience creating logos and brands so this is perfect if you're starting a new business or want to give an old business a new, fresh look.
Below you'll find a price guide for our design work.
| | |
| --- | --- |
| Item | Price |
| Business Cards | £10 per side |
| Stationary | £15 per item |
| Leaflets | £20 per page |
| Booklets | £20 per page |
| Posters | £30 |
| Folders | £25 per side |
| Banners | £15 per meter |
Examples
Here are just a few examples of the types of design work we do. You can find more specific images by browsing through our printed products but this gallery gives you a looks at some of the design work we either don't print or that is a bit more specialised.