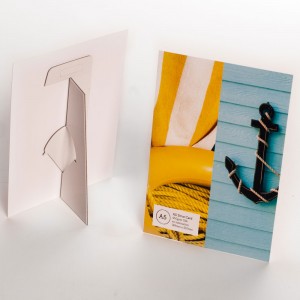 Strut cards are an incredibly versatile form of printing that we are delighted to offer our customers. Whether you own a large company or run a small cottage business you'll have a use for our affordable strut cards. They are excellent as point of display signage in a store to advertise you latest product offers or sales.
No matter what type of company you run a strut card is a helpful piece of reusable pos that can be moved to a number of different places. If you have a retail location selling good then they are great at advertising products. They also work well in a show room letting your customers know about the specific products on offer. We also sell a number of these to pubs, bars and restaurants. If you want a nice freestanding menu, special offers board, wine menu, desert menu, a list of upcoming entertainment, or any other number of uses.
Printed strut cards aren't just for big businesses, many small independant businesses, self employed people, or crafters can get great use from strut cards. Mostly they can be used to great effect at crafts fairs, conventions, markets, and hobbyist events where you you sell the myriad of products or services you offer. If you have a meeting with a client they can make an excellent part of you presentation.
All of the strut card are printed on solid card stick with a foldable strut affixed to the back that makes them incredibly easy to pack up and transport. You also get our excellent high quality printing, low price, and quick turnaround. If you have a design already we can print that onto the strut cards for you; however if you don't have anything we also offer a full design service. With this service you get to leverage the abilities of designers with decades of experience so that they can get the best possible look and functionality from your strut cards.
Whether you need a few to help sell your products or thousands to roll out to multiple locations we can help. Please get in touch today for your strut card print and design needs.