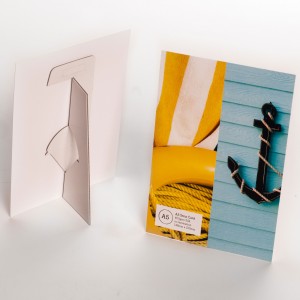 Strut card print is an effective and affordable way to advertise your products or services to your customers. We offer them with a high quality 4 colour print with the option of gloss, matt, or soft touch lamination, the lamination can take a regular card and elevate it to the next level of professionalism. We can even offer great prices at both low and high quantities so you can get the best price whether you want a dozen from your store or a few hundred for multiple locations.
A strut card is one of the most basic pieces of point of sale signage you can get but it's also one of the most effective. It's essentially a sturdy, thick card with the lamination of your choice, for durability, that can stand on counters or tables with any message or graphic you want. It stands due to a clever little cutout card on the back that folds out in a way similar to a picture frame.
If you're unsure what design to have printed on the front of your strut cards the our design team is ready to help. Wether you just want a few ideas or you wants us to do the full design we're ready to bring decades of design and print experience to bear in helping you get the best possible strut cards you can. Most people have an interesting poster that fits in with their brand identity but highlights a part of their business that they wish to push. Another popular alternative is a way to list product and service prices in a way that's visually interesting.
If you want strut cards printing to help enhance your store or workspace then ultimately we can provide them at high quality, affordable prices, and with a design you can be proud of. To find out more or place your order either pick up the phone or send us an email today.