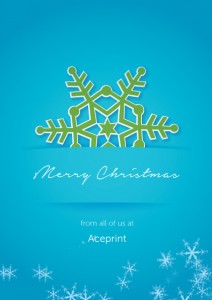 This holiday season the best way to spread cheer to your employees or business customers is with a small gesture like a beautifully printed Christmas card custom made for your company. This shows you care, spreads good will, and helps spread your incredibly professional brand in a subtle way. The cards need not be a pure vanity item as some companies find good uses for them. One of the most popular is for giving gift cards to employees as Christmas gifts or bonuses during the holiday season. Presenting this in company branded cards is a nice way to add a personal twist to a gift sometimes viewed as impersonal.
Not only are they good for staff but you can provide your most valued and trusted customers or business partners with custom Christmas cards as a way to sow goodwill that will carry through to the new year. It's a great way to let them know you appreciate them and the custom nature of the card built around your brand reminds them what your company is about.
If you sell consumer facing gods then a Christmas greeting card is an excellent way to send delivery notes or receipts, it's a neat festive twist on the usual delivery methods. All of our cards come with envelopes so if you need to post your invoices they'll be guaranteed to fit perfectly.
We have a full in house design team ready and willing to craft Christmas greetings cards that fit well with your logo and corporate identity while remaining faithful to the spirit of the season. If you already have a design ready for print we're more than happy to use that assuming it meets our print ready requirements.
If you would like to find out more about our custom Christmas card printing then please contact us today. You email info@aceprint.org.uk or call us on 01924 261 154.